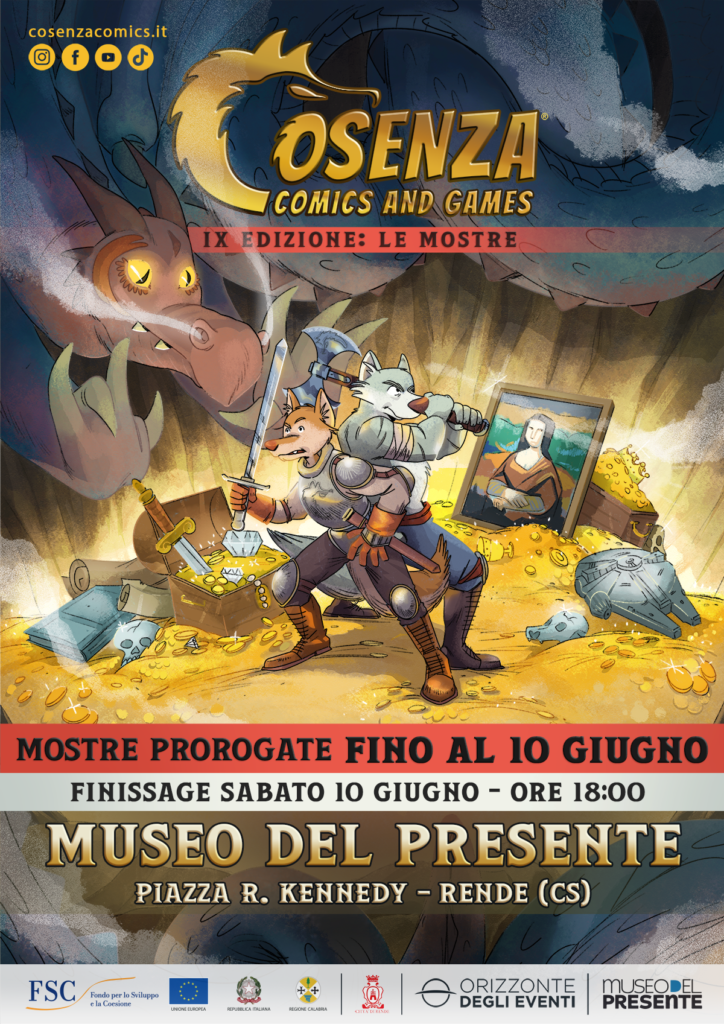 Le mostre della IX edizione di Cosenza Comics and Games verranno esposte al Museo del Presente di Rende (CS), fino a sabato 10 giugno. Sarà possibile visitare le mostre dal martedì al sabato, dalle ore 09:00 alle 13:00 e dalle 16:00 alle 20:00.
L'accesso al museo sarà gratuito per tutti i visitatori.
Le mostre nel dettaglio:
"Mythos: creature fantastiche", realizzata in collaborazione con la Fondazione EsNat è una grande esposizione sulle creature mitologiche, con decine di modelli realistici a grandezza naturale con i quali i visitatori possono ripercorrere la storia della mitologia.
"Medioevo: storia, storie e mito a fumetti", realizzata in collaborazione con la Fondazione Franco Fossati e WOW Spazio Fumetto di Milano, racconterà l'affascinante e misteriosa età del Medioevo attraverso le sue numerose trasposizioni fumettistiche.
"Mattoncini su tela" di Mario Bujaroni, realizzata in collaborazione con ItLUG, mostrerà delle accurate riproduzioni di celebri opere d'arte realizzate con i mitici mattoncini LEGO®, impiegati in modo totalmente originale.
"Queerness", realizzata in collaborazione con Arcigay Cosenza racconterà tutti i colori dell'essere umano illuminati dallo sguardo fresco di una nuova generazione di artisti, che raccontano con onestà la voglia di amare e di vivere in libertà.
"Percorsi d'altri mondi" di Sara Elia, racconterà un'arte fatta di creature elfiche e luce soffusa di sottobosco, mondi surreali, immersi nella natura e nel fantastico, il mondo di Tolkien, con i suoi visionari scenari della Terra di Mezzo.
Le locandine dedicate:

"Cosenza Comics and Games: Le Mostre" è finanziato con risorse PSC Piano di Sviluppo e Coesione 6.02.02 erogate ad esito dell'Avviso "Attività Culturali 2022" dalla Regione Calabria – Dipartimento Istruzione Formazione e Pari Opportunità – Settore Cultura".