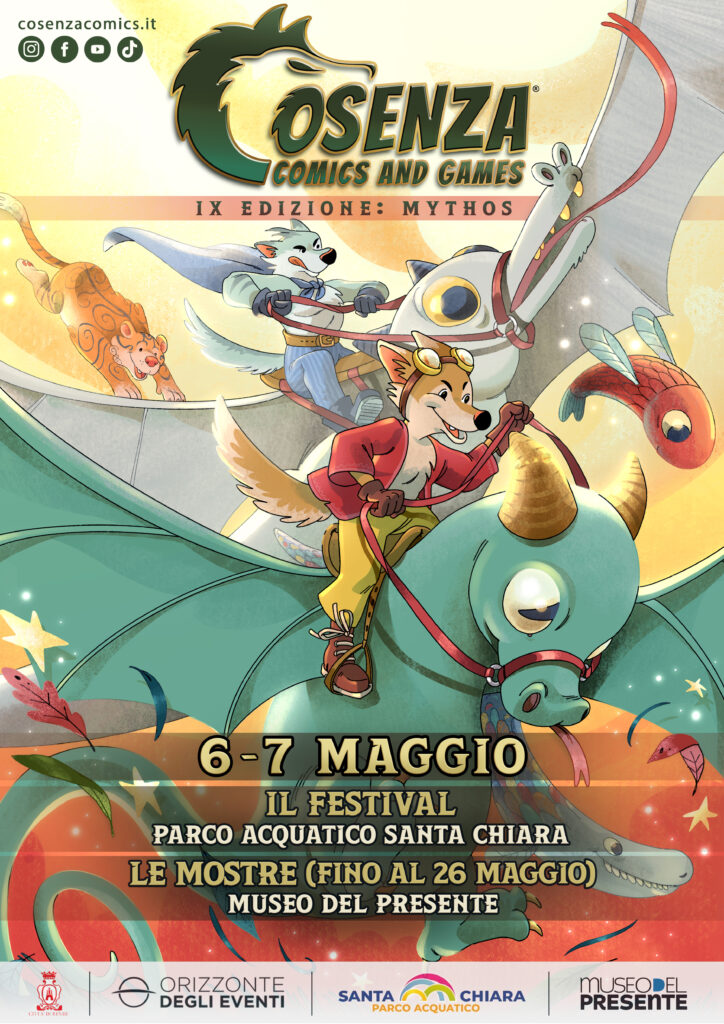 Manifesto realizzato da Angela Sancono.
Cosenza Comics and Games "Mythos"
IX Edizione, 6-7 maggio 2023
Un'edizione "mitica"! Cosenza Comics and Games è tornato, nel 2023, più forte che mai. L'edizione in presenza più grande di sempre si è svolta sempre in due location distinte. Il Parco Acquatico Santa Chiara di Rende ha ospitato il festival, con gli artisti, gli stand commerciali, le conferenze, i concerti e le varie aree gioco; il Museo del Presente di Rende ha ospitato le prestigiose mostre.
Il tema scelto per l'edizione 2023 è stato "Mythos", ovvero il mito in ogni sua forma. Miti, leggende e fantasy hanno influenzato buona parte delle mostre, degli interventi e delle conferenze che si sono svolte durante l'evento.
Tra gli ospiti coinvolti al festival spiccano il contributo di Giovanni Muciaccia, Gianluca Iacono, Caterina Costa, Simone Buonfantino e i Gem Boy, che hanno tenuto uno strepitoso concerto durante la prima sera del festival.
Le mostre dell'edizione 2022 di Cosenza Comics and Games sono state: "Mythos: creature fantastiche", "Mattoncini su tela", "Medioevo: storia, storie e mito a fumetti" "Queerness: oltre lo spettro", "Percorsi d'altri mondi".
Per l'ottava edizione sono stati ingaggiati oltre 50 ospiti tra relatori, autori di fumetti e rappresentanti di rinomate case editrici.
Nell'arco dei due giorni di festival ad affollare il Parco Acquatico Santa Chiara sono stati più di 30.000 visitatori.
Le mostre, attive dal 6 maggio al 10 giugno 2023 presso il Museo del Presente hanno accolto più di 50.000 visitatori.