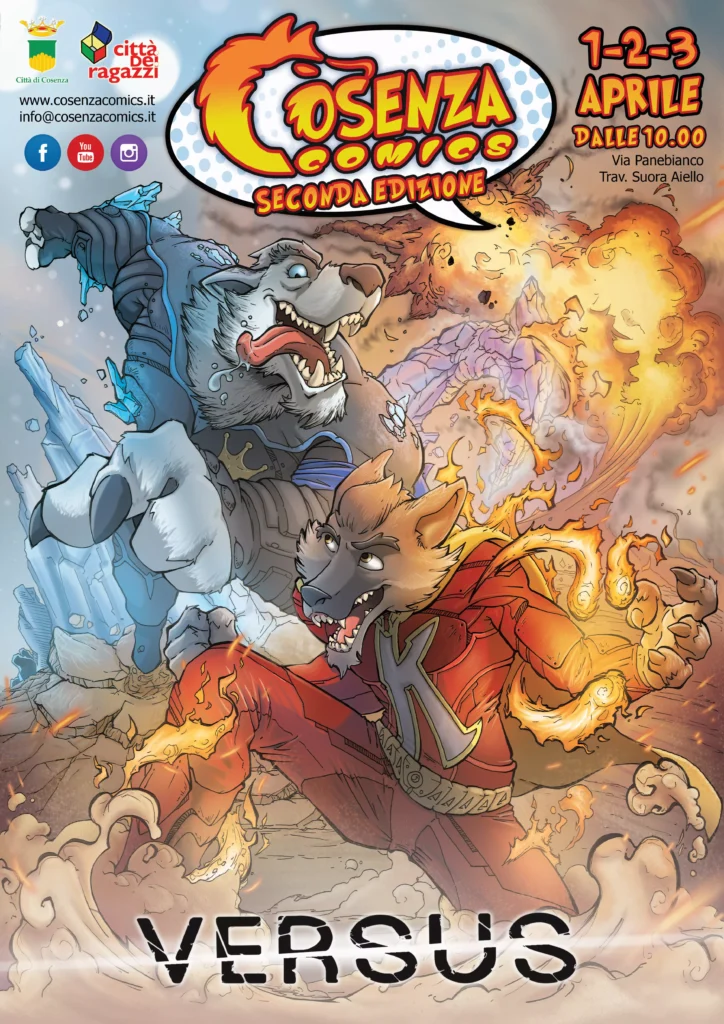 Manifesto realizzato da Patrizio Cestiè.
Cosenza Comics and Games "Versus"
II Edizione, 1-2-3 aprile 2016
La seconda edizione dell'evento ha dato il via ad una tradizione poi mantenuta da tutte le edizioni successive, la scelta di un "tema" che caratterizza non solo la comunicazione ma anche le attrazioni e i contenuti della manifestazione.
Una caratteristica che ha contraddistinto – e continua tuttora a distinguere – Cosenza Comics and Games da tutti gli eventi di questo tipo.
L'edizione del 2016 porterà dunque il sottotitolo "Versus", un omaggio ad alcuni eventi cinematografici approdati in sala nella primavera di quell'anno.
Tra gli ospiti coinvolti:
Marco Mete (attore e doppiatore); Giada Pancaccini (modella, presentatrice, cosplayer); Andrea Franchini (modello, presentatore, cosplayer); I Nanowar of Steel (gruppo musicale); I Game Over Press Start (gruppo musicale); Adrian Fartade (divulgatore scientifico); Pasquale Qualano (fumettista); Tina Valentino (fumettista); Francesco Miceli (divulgatore); Antonio De Luca (illustratore); Massimiliano Veltri (fumettista).
Per la seconda edizione sono stati ingaggiati oltre 30 ospiti.
Nell'arco dei tre giorni l'evento ha visto tra visitatori, operatori economici e sociali del settore oltre 15.000 presenze.