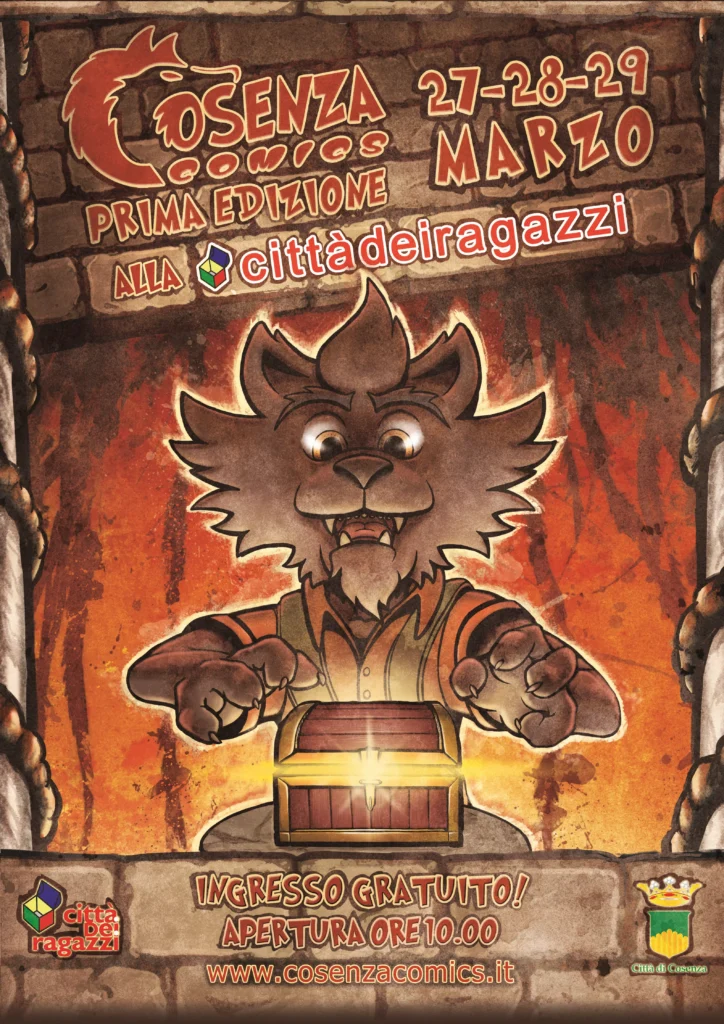 Manifesto realizzato da Sante Mazzei.
Cosenza Comics and Games
 I Edizione, 27-28-29 marzo 2015
La prima edizione di Cosenza Comics and Games è stata una scommessa vinta nel migliore dei modi. Fino ad allora la città di Cosenza e in definitiva tutta la regione Calabria non avevano mai ospitato un evento di tale tipologia e dedicato ad un pubblico talmente ampio.
Tra gli ospiti coinvolti:
Pasquale Anselmo (attore e doppiatore); Giorgia Vecchini (modella, presentatrice, cosplayer); Leon Chiro (modello, presentatore, cosplayer); Jessica Armanetti (modella, cosplayer); Final Fantasy Italian Project (gruppo musicale); Game Over Press Start (gruppo musicale); Emanuele Tenderini (fumettista, illustratore); Linda Cavallini (fumettista, illustratrice); Pasquale Qualano (fumettista); Francesco Miceli di Parliamo di Videogiochi (divulgatore); la mostra Dinosauri in Carne e Ossa (mostra) e molti altri.
Per la prima edizione sono stati ingaggiati oltre 30 ospiti.
Nell'arco dei tre giorni l'evento ha visto tra visitatori, operatori economici e sociali del settore circa 12.000 presenze.